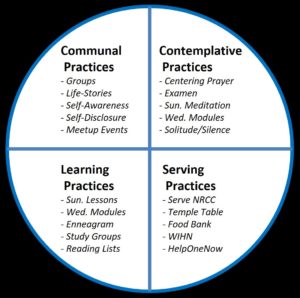 NRCC's journey began many years ago, desconstructing Enlightenment-Era church. After that, we began reconstructing a way to be Christian in the Quantum Era. Along the way, among the writings and practices of our ancient Christian Mothers and Fathers, we found a set of transformative spiritual tools . They help us become spiritual elders in the new worldview.
We organize the practices into four categories . . . and organize our whole community around helping one another be faithful to "working the circle".
If you're new to the community, this will help you understand why we do things the way we do…
Have a listen.
Podcast: Play in new window | Download